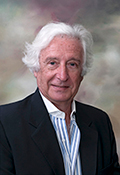 Eduardo Duek, Ph.D.
eddie@eliteinternational.com

(786) 757-8765

Realtor Associate
Eduardo Duek, Ph.D. , an argentine-american, has lived in the US for over 35 years, time in which he developed an eclectic and successful career in international relations, negotiation and commercial real estate. Elected member of the Dallas Committee in Foreign Relations and the Argentine Committee on International Relations, Dr Duek was nominated Ambassador of Dallas to Argentina. After 1993, Duek focused on private enterprise, dedicating his attention to the development of shopping centers and their administration. His being elected President of the Argentine Chamber of Franchising, helped him focus in very diverse income producing real estate.
Dr Duek commercial philosophy is quite simple: always meet or exceed a client expectation.