Cristina Martins De Oliveira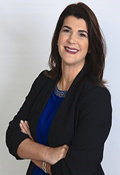 Cristina Martins De Oliveira
cristina@eliteinternational.com

(305) 909-3536

Realtor Associate
Cristina, is an experienced Realtor® with over two decades living in South Florida, originally from São Paulo. Cristina moved to Miami to get a better life style, she got an opportunity and graduated in Arts at Miami Dade College. Regarding real estate, she loves to be a part of the commercial real estate. However, Cristina rented and sold many residential properties in the well know communities of Aventura, Sunny Isles, Downtown, Coral Gables, and Virginia Gardens. Also, in the mix of these neighborhoods in Doral, were she lives with her family and her lovely labrador.
Well-versed in all aspects of the luxury real estate market, from representing developers in selling high-end residential condominium projects, to assisting private clients in purchasing or rent their first dream homes to helping affluent customers sell or buy their commercial business — Cristina never gives less than her 110%.
Cristina is very well appreciated by her customers as it says here, "She is a great professional, attentive to details and very knowledgeable . She truly cares about her clients . She is an expert in real estate. I highly recommend her!" —"Cristina is an incredible professional, she has an excellent knowledge about real estate in Miami FL. She was very attentive and very careful in choosing our apartment. My family and I highly recommend Cristina's service. Thank you!!"
Cristina commits to work hard and efficiently because she believes that all her clients deserve a flawless level of excellent service. That is why whether you are looking to sell your magnificent multi-million dollar oceanfront home or to purchase a retail store, Cristina is going to be a great real estate agent for you.